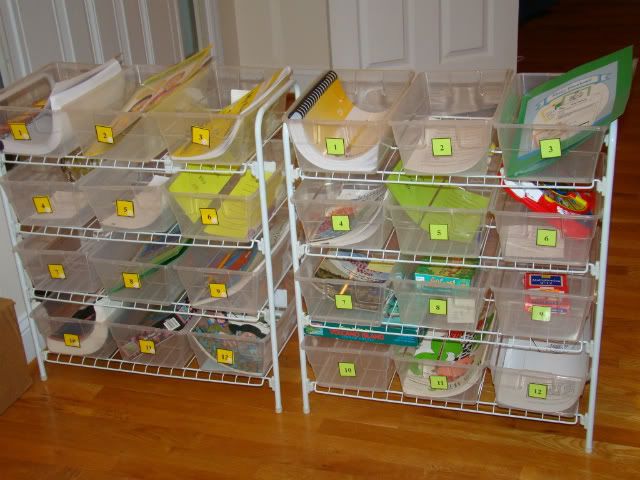 My sister-in-law just tipped me off to this idea yesterday and I plan on buying the
e-book
. I think this might be great help with the little ones in our family, especially when we come home with Dorothy and I want to have a stream of ready activities for Lael while I continue homeschooling the older kids and holding and bonding with the newest family member.
Without reading the details outlined in the e-book, I gather it is a system for organizing individual assignments or activities in a way that your child begins to self-initiate their learning, taking responsibility for what needs to be done. Since the parent prepares the boxes the night before, it also eliminates disinterest on the part of the student while they wait for the next activity or task to be ready for their participation (no gathering art supplies, no fumbling for the right worksheet, no decision time over which puzzle... all while the child wanders off to the next room).
A quick Google of "workbox homeschool" turns up a number of homeschoolers who have implemented this system and offered their feedback and photos of how they're using the tips.
If you currently use this system, I'd be interested in hearing your comments!